Note: This post is the fifth and final entry in a series about my 2018 European bikepacking adventure between Strasbourg, France and Frankfurt, Germany with my friend Steve. You can read Post 1 - The Concept here, and you can find links to the other posts at the end of this entry.
Breakfast in Germany continues to one-up itself. Of course a winery would have an even stronger breakfast game than a youth hostel would. Thankfully, before we got drunk with Gerd the night before, they asked us what time we'd like breakfast to be ready. And thankfully we were smart enough to set an alarm to get up for the spread. More meats, more cheeses, delicious pastries, all the coffees and teas, we ate like kings. All while having a completely absurd photograph of Scarlett Johansson walking through a field of wine grapes watch us out of the corner of her eye.
Get your own breakfast, Scarlett
Steve and I certainly weren't in our best form on this fine morning after our evening with Gerd, but our spirits were high. Gerd's spirits were also high, which was good because when I built up the nerve to tell him about the decorative bottle of wine I opened last night, he just laughed it off. To make up for it, I bought two bottles of wine to take back to Frankfurt with us. The bottles were 6 euros a piece. I've been lucky enough to go to Europe 3 times in my life, and I am continually amazed at how inexpensive the wine is over there. D and I went to Spain in January 2020 and found it difficult to say no to a glass of delicious wine for 1.50 euros. I wish I could have brought more home but the panniers were only so large.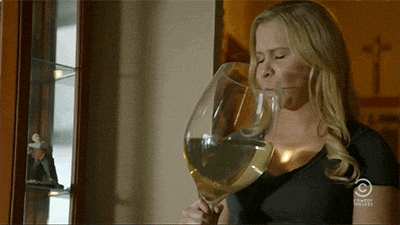 Our spirits may have been high that morning, but our butts were sore and our insides were a bit scrambled. We spent much of breakfast looking over train options to cut out a portion of the biking on what would be our last day of the tour. We realized that if we hustled, we could make the next train out of Worms and cut about 20 miles off of our day.
Goodbye, Abenheim.
We were motivated and hit the trail back to the station. We moved with a quickness, which was kind of a shame given how we were saying goodbye to a beautiful landscape that we had barely begun to get to know. The place was just so goddamn dreamy, though I'm afraid a second visit may just disappoint. I wouldn't want to tarnish the Beauty and the Beast-like innocence and tranquility that lives in my head when I think about Abenheim.
(Interestingly, when Steve and I later arrived in Berlin, a touring production of the musical Beauty and the Beast was coming to town, with billboards and ads everywhere. So I now know that a tale as old as time, a song as old as rhyme - die Schone und das Biest. (Just imagine Celine Dion and Peabo Bryson singing that in German. What a treat.)
We got off the train in the town of Mainz and had a leisurely morning biking along the Main River into Frankfurt. The trail skirted the river almost the entire way, which led us about 40 kilometers on the day. It was lovely, and we could start to feel the imposing presence of a large city creep into the trail as we got closer, but the trail remained.
On this trip specifically is when I really started to understand the ubiquity of e-bikes. I had seen a few in the US, but I hadn't really looked out for them. But I couldn't help but notice the amount of them in Europe, and it was a lovely sight. Especially when I started to notice a trend on e-bike users. It was clear people of all ages were using them, but I did notice a specifically older demographic of people who were out on their e-bikes when they may otherwise not have been capable of or interested in using strictly human-powered bicycles. The trend was very clear when it came to older hetero couples - the male would often be on a traditional bicycle, and the female would often be on an e-bike. I loved it. I started noticing more of them when I got home. I suspect they were there before, but I noticed them more because they became a part of my consciousness.
Now, it's hard to go on a ride anywhere and not see some e-bikes, and I love it. I'm down for anything that gets more people on bikes, period.
As we got closer to Frankfurt, we got to enjoy a bridge along the trail that was particularly unique. Well, it wasn't the bridge itself, but rather its elegantly-curved ramp. It felt very European. Such curves and grandeur would likely have been value-engineered out of existence in the US. But Steve and I had the pleasure of biking up the ramp, of course taking pictures along the way because #touristlife.
We made it to Frankfurt in the early afternoon with enough time to drop off our bikes and meet Dan and Melissa for happy hour. The bikes served us well, but to be honest, I wouldn't need to experience them again. I know enough now to hopefully be able to find more suitable bikes for a future bikepacking journey in Europe, and god willing I will live to make that a reality again one day.
Steve and I made it to Frankfurt and showed off our Nats hats.
** Bonus Content! **
Steve and I still had a few days left in Germany, and some silly things happened on the rest of our trip that I'd be remiss if I didn't share. So here's a few rapid style bullet points. Go!
Later that night we did Karaoke with other Americans at an Irish bar in Frankfurt (because why not!). Some Austrian dude asked me to do a duet with him, which is why I found myself being Elton John to his George Michael in Don't Let the Sun Go Down on Me
Random Austrian dude
We took a train to Berlin and I remember seeing the train's speedometer (shown on the in-car video screen) at 300km/h. I hadn't quite experienced speeds like that on land, and my stomach was less than pleased with the speed. But good for you, Germany!

We got to Berlin in just enough time to catch the full World Cup final, watching France beat Croatia from a bar with many holes in the wall

Speaking of holes, we were amazed with the bullet holes from World War II still littering the buildings of Berlin. Like, history wasn't that long ago, man. Woah.

We walked by the Brandenburg Gate and my homosexual ass was like "wait, I know that hotel across the street." And the tour guide was like, "yeah, that's where Michael Jackson dangled his child, Blanket, over the balcony to wave at adoring fans below." Yup, that makes a lot of sense.

I was floored with the number of hieroglyphics of penises at the Neue Museum in Berlin. Erect penises. Penises pointed at birds. Birds perched on penises. Birds with disproportionately large human penises attached to them. Truly, dick pics transcend time, place and medium.

I had my first Aperol Spritz. It was sweet and bitter and delicious and I fully came back to the US thinking I had discovered something new and had to introduce it to all my friends who were like "yeah, we know."
WOW Air should be congratulated for their hot male flight attendants. Every Icelandic flight attendant on our connecting flight home from Reykjavik was hotter than the next. Kudos.
Enjoy the rest of our European adventure!
Part 5 of 5 - Day 3 - Abenheim, Germany to Frankfurt, Germany (this post)