#026 - See Europe from the Seat of a Bicycle (Post 4 - Day 2, Karlsruhe to Abenheim)
Note: This post is part four in a series about my 2018 European bikepacking adventure between Strasbourg, France and Frankfurt, Germany with my friend Steve. You can read Post 1 - The Concept here, and you can find links to the other posts at the end of this entry, which will be updated as they are completed.
Breakfast in Germany is no joke. They are not afraid to start their day with a balanced assortment of sliced meats and cheeses and other animal and dairy products.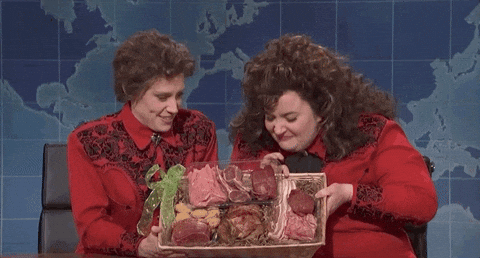 I may not want to start a work day at a desk like that, but it was a welcomed way to start the second day of a 3-day bike journey between France and Germany. Steve and I got up early, though it's not particularly easy for a couple of guys in their mid-30s to sleep in on plastic mattresses stacked on a bunk bed. The hostel had quite a breakfast spread, and we gobbled it up before hitting the trail again.
Heading out of Karlsruhe wasn't easy. It involved lots of on-road cycling and crossing the Rhine once more to follow the route north. The bridge crossing the Rhine left something to be desired. But even the shittiest highways in Germany still provide a separated location for people walking and biking.
Later that morning, we passed a unique feature that I have not seen first-hand before: a nuclear power plant. We don't have a lot of them in the US, and you certainly aren't casually riding a bicycle by one, so it sticks out in your memory. Those curved smoke stacks that American millennials know best from the Simpsons rose from the landscape, and the trail snaked around them, comically large and hard to not be mesmerized by.
My French flag that I found on the side of the road was still going strong on the back of the bike, flapping in the breeze, and it made me smile every time I saw it. Near the power plant, two guys on fancy bikes approached Steve and me from the back. As they were passing, one of them shouted something at me.
When someone shouts at me while riding my bike in the US, I'm usually on edge. It's usually a driver, yelling something inane about getting off the road, which is legally mine to use as well. I do not like when someone yells at me on the road. I've had friends loudly say hello to me while passing me when I'm walking or biking, and by the scowl on my face, you'd think they were my middle school bully or something. It's just not a time or place where I want anyone speaking to me loudly.
It took me a second to process, but I realized this gentleman on a bucolic German trail wasn't angry with me - he was wishing me luck.
"Bonne chance au match dimanche!"
It turns out he was enthusiastically wishing the French soccer team luck on its World Cup Finals match on Sunday. It was Thursday, and the World Cup Finals were 3 days away, featuring France vs. Croatia. With my French flag, I guess he assumed I was a Frenchman.
I gleefully yelled back, "Merci! Allez les bleus!"
We had planned about 60 miles of biking each day. Which is totally doable and would be enjoyable on regular bikes, but as you may remember, we rented heavy, steel beasts that are not quite the efficient biking machines we were hoping for. It became pretty clear that we were not interested in biking 60 miles 3 days in a row on these bikes.
This is not a problem in Germany. Their train system is so good and covers so much territory, we were able to find a way to cover a significant portion of our journey by taking our bikes on trains and calling it good.
We arrived in Speyer in the early afternoon. We checked in with the attendant to see if there'd be any trains that would get us closer to our final destination of Abenheim for the evening. We wanted to cut out 10-20 miles of our day just to make it a little more enjoyable.
We got lucky. A train that would get us to Worms was coming in about 20 minutes. That ended up cutting out about 25 miles on the day, and we didn't care. We were not out there to bike every one of those miles or to prove anything to anyone.
The train from Speyer to Worms was a nice break on the day. I watched the German countryside go by. Every time we'd pass a new town, it would announce it on the speakers and on a crawling screen in the train car. As we passed through a very nondescript small town, I looked up and instantly recognized the town name.
Schifferstadt. No, not because of super babe Claudia Schiffer (schwing!). Growing up for part of my life in Frederick, Maryland, I immediately recognized the name Schifferstadt. It is on many signs throughout the city - it's Frederick's sister city. It would have been nice to stop off in town, walk around, take a few pictures, and talk to my fam. "My people, I'm home! I come bearing sweaty bike clothes and a tattered French flag!" A picture of the town name as we passed through had to suffice.
We got off the train in Worms and figured out our way to Abenheim, which was about 5 or 6 miles away. We had a reservation to stay in a much nicer place than the previous evening's hostel. We got rooms at the Cleres Weingut, a winery in Abenheim. They have a guesthouse that seemed like the best option within 10 miles, and holy hell it didn't disappoint.
Even the trail into Abenheim was charming, a dirt and rock path that was a little bumpy but so worth it. It's off the beaten path, away from the road, and often nestled under some trees with low branches that hug the trail but don't crowd it. It's not fast biking, but it's a lovely way to end a day's journey.
On your way into Abenheim, you also start to enter wine country. It's bucolic as shit.
We entered Abenheim and rolled into the winery. It's a small venue with a house, a large shed out back, and a guest house across the street. A woman and a teenage girl were standing outside the house as we biked up to it.
"Hi! We have reservations for the night," Steve said with our typical American enthusiasm.
The ladies gave us a quizzical look. Were we in the right place?
They spoke to each other in German. The older woman responded in broken English, "My daughter learns English in school, she will talk to you."
Most people in Germany spoke enough English to get by with us, so it was nice to be reminded occasionally that we were definitely foreigners. The daughter figured out what we needed and went to grab her dad.
Gerd in his natural habitat
Gerd came out to greet us. It was clear we reached the winery at the end of their day, and they were packing things up and preparing for a night in. But Gerd, being the consummate professional, offered to take us on a tour of the winery and let us try some samples.
First, he brought us over to the guesthouse to drop off our stuff. We hit the jackpot with this place. The guesthouse has multiple units, and we were the only ones there that night. Which meant we got the suites. And they were indeed sweet. Steve and I each got our own rooms with their own bedrooms, living rooms, and large bathrooms. It was an absolute treat after the hostel from the night before.
The guesthouse at Cleres Weingut
And did I mention that it was for under 50 euros a night each? (Yes, I did, but it warrants saying again.)
Steve and I dropped off our stuff and headed back to the main property to hang with Gerd. Gerd was a handsome man of middle age with light-colored hair who would be played by Jeremy Renner in the action movie of our trip. He shared stories with us about learning English in his 20s by traveling around the US. We had plenty of time to swap stories as Gerd was pouring us wine. It started innocently like most wine tastings. A small pour here, a small pour there, a story about how he came to own the winery, all good stuff. The wine itself was delicious - I remember being particularly taken by their merlot and their weisserburgunder, which is a lot for me because I don't usually love white wine (and don't worry, I didn't know that was a kind of wine until visiting there either).
As Gerd got to talking, the wine kept flowing. Here's this new bottle we are just putting out there, you have to try this. Oh, this is my father's favorite, have some of this. He opened what seemed like a dozen new bottles of wine for his new American friends to try.
Pretty soon, we were drunk. Gerd too, even though he started the tasting by telling us that his doctor told him he shouldn't be drinking for a while since he just got out of the hospital. Well, actually, I bet Gerd wasn't drunk, but these two light-weights trying to keep up with a hard-drinking winery owner probably did us in real quick.
We couldn't believe our luck. A private wine tasting with the winery owner himself, and it was good shit! Then Gerd offered to take us on a tour of the cellar. What we thought was a shed in the back with a nice fridge and counter for tasting wine turned out to be just the above-ground portion of a sizeable wine cellar. Gerd took us downstairs and showed us the barrels and the other equipment.
Someone has to climb inside these barrels to clean them
It was really cool. And that's about as much detail as I can give here since it was 3 years ago and I was drunk. A drunk American on a winery tour in rural Germany, just as slap happy as I could be.
Steve and I realized we needed to eat something, and fast. Gerd offered to walk with us to his favorite restaurant in town. Which also happened to be the only restaurant in town open that evening.
Ristorante Don Camillo
It was an Italian place (Ristorante Don Camillo), which was fine with us since we needed some carbs in our lives. Gerd told the hostess to take care of us (hell, or maybe he didn't - maybe he told her that we were drunk Americans who love spit in our food, we didn't care), and she sat us at a corner table on the patio. As we perused the menu, a slightly disheveled gentleman sat across from me in the open seat next to Steve. He lit a cigarette without saying a word and just sat there.
The day's headline on our table at dinner - the horror!
Steve and I were drunk and confused. We obviously looked uncomfortable because the waitress came over after a few minutes and said something to the guy in German. He begrudgingly got up and left to another table. It was only later that we found out that it is common in Germany for people to sit at open seats at tables in a communal style. I've done that in the US, but only after asking the people already sitting down and profusely apologizing for crowding their space. Granted, it usually turns out well, like when I was on my first date with my now-fiance and we asked to sit at a table with another couple since all of the other tables were taken. It turns out that an accidental double date on the first date is actually a really smart way to break the ice.
Steve and I ate our Italian food in Germany (pasta carbonara doesn't quite translate into German, but the ambience was nice), and we went to visit the last place Gerd told us we had to visit in Abenheim. Up the road from the guesthouse, perched on a hill overlooking town, was an old church - the Klausenbergkapelle. With further research when we got home, the chapel was originally built in 1299 (like, the year 1299) and rebuilt several times over the years, most recently in 1720. It was the icing on top of the Americans in Europe fantasy. We walked up a steep hill through rows of wine grapes and explored the grounds. Turning around to look over the town, the sun was setting and it was beautiful.
Abenheim is a dream
Back in our rooms, we were at the level of drunk where having a nightcap made sense to us. Conveniently, there was a bottle of wine in my room, so Steve came up and we opened it while watching uncomfortable German cartoons. I got the bottle open and quickly realized it wasn't a bottle to be opened by guests. It was just for show. At one point, the inside was just water or something innocuous, but it had since turned into a putrid rotting stank liquid. I realized I was going to have to fess up to Gerd in the morning, that I opened the bottle of wine that was just for show, but ha ha isn't that funny? It was all for the better, we didn't need any more wine that night. We had another 50 or 60 miles to go until we were back in Frankfurt the next day.
Come back and explore the last day of our European adventure!
Part 4 of 5 - Day 2 - Karlsruhe, Germany to Abenheim, Germany (this post)

Part 5 of 5 - Day 3 - Abenheim, Germany to Frankfurt, Germany (coming soon)